There have been few occasions in history that were so uncertain and volatile as the present. To safely navigate these hard times, the imperative of integration is now unavoidable. Resilience of global value chain relies on the appropriate use of technology and financial resources.
We discussed several topics like this during our event at Nyenrode Business School, in the Netherlands, bringing the experience of large-scale projects involving hundredths of businesses. Let's make our value chains future-proof.
The event was held on Wednesday, November 2, 2022, at Nyenrode Business University, Netherlands.
Check out our pictures of the event: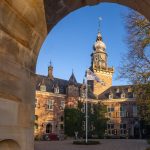 Program
SCF Corporate Event Netherlands
Registration
8.30
Registration & Welcome coffee
Opening
9.00
Event Introduction
The Future of SCF is connected to the future of Supply Chains
SPEAKER:
Michiel Steeman
Main programme
9.10
Physical flow
Risk and resilience
SPEAKER:
Dale Rogers
Risk and resilience
SPEAKER:
Ronald de Boer
Order to cash
SPEAKER:
Christiaan de Goeij
10.00
Information flow
Future (bitcoin, Spark!)
SPEAKERS:
Victor van der Hulst
Maxime Bouillon
10.35
Financial flow
Sustainability Inflation – changing cost of money on existing programs
SPEAKERS:
Michiel Steeman
Viktor Elliot
Inventory financing
SPEAKER:
Tim Stekkinger
11.10
Bringing it all together
Panel discussion
SPEAKERS:
Moderator: Michiel Steeman
Panelist: Bart Ras
Panelist: Michiel Deurwaarder
Panelist: Gerhard Schipp
Ernesto Vila
Closing
11.50
Findings & Conclusion
Bring back all the subjects to their link with sustainability
SPEAKERS:
Luca Gelsomino
Michiel Steeman
Do you have any questions about the event? Use the Contact Form on our website to get in touch with us or check the FAQs.